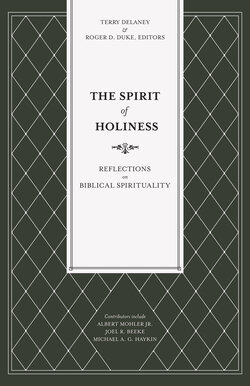 The Spirit of Holiness: Reflections on Biblical Spirituality. Edited by Terry Delaney and Roger D. Duke. Bellingham: Lexham Press, 2020. 232 pp. $28.99.
Purchase at ChristianBook.com.
Endorsements
Read this book and be encouraged, practice this book and be spiritually enriched.
—Jason K. Allen, President of Midwestern Baptist Theological Seminary and Spurgeon College
The quality and interest of the essays, and the learning they represent, combine to honor someone whose friendship, teaching ministry, and books, have helped shape the lives of so many Christians today. The Spirit of Holiness is simply a wonderful expression of God's own promise: "Those who honor me I will honor."
—Sinclair B Ferguson, Chancellor's Professor of Systematic Theology, Reformed Theological Seminary
To read any of Don Whitney's writings is to know the man as he truly is: extraordinarily disciplined, carefully precise, devoted to knowing Christ, and overflowing with joy in Christian fellowship. This collection of essays is a fitting tribute to a servant of Christ who has been such a rich blessing to Christians longing to grow in their devotion to God.
—Matthew J. Hall, Provost, The Southern Baptist Theological Seminary
Each of these chapters, whether through history or theology, makes us yearn expectantly for the Holy Spirit to do His work in us.
—Hershael W. York, Dean, School of Theology, Victor & Louise Lester Professor of Preaching, The Southern Baptist Theological Seminary
___________________________________________________________
Diary of a Seminary Student. Chipley: Theocentric Publishing Group, 2011. 334 pp. $14.99.
Purchase at Amazon.
Endorsements
Terry Delaney's diary opens a window into the lecture halls and living spaces of those who sense the call of God to prepare for a life of vocational Christian service. The struggles, the questions, the joys, the classroom experiences, the professors, the students, the stories of answered prayer and God's provision—they are all here in this unique perspective on theological education.
-Dr. Donald S. Whitney, Associate Professor of Biblical Spirituality; Senior Associate Dean of the School of Theology, The Southern Baptist Theological Seminary
What would it be like to peer into the life of an aspiring pastor and his family during some of the most challenging years of their lives? In Diary of a Seminary Student, author Terry Delaney invites us into his living room, as it were, to see God's faithful dealings with him.
-Rob Ventura, Pastor, Grace Community Baptist Church, Cumberland, Rhode Island
It has been a joy to watch God's unfolding providence in his life and that of his wife, Krista, and to see their growing dependence on that unseen but faithful hand.
-S. Scott Lee, Pastor Rockport Baptist Church, Arnold, Mo.